Dylan Mattress - Tri-Fold
Bảo hành 7 năm



10% discount
Original price: 1,178,000đ
The pressed cotton mattress, also known as the squeeze mattress, is one of the most popular mattresses available today. The mattress is increasingly receiving the attention of the majority of consumers by low cost and convenience. With the brand of Uu Viet mattress, you can be assured of product quality, warranty and after sales service.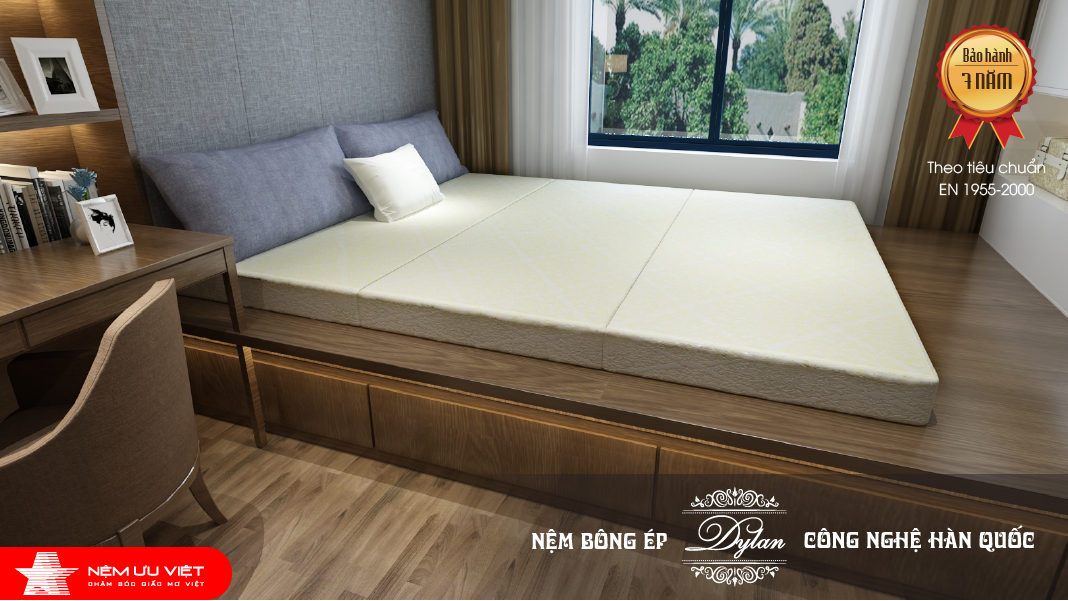 Product information
- Product name: Dylan pressed cotton mattress.
- Brand: Uu Viet Mattress.
- Inside the mattress: 100% high quality cotton fiber (polyester) made from Korea.
- Mattress fabric: Use high quality knitting fabric (180gram / m²) with many outstanding features.
- Seam of mattress: Firm, meticulous to increase product durability.
- Design: Tri-fold, mattress cover is equipped with convenient zipper.
What is pressed cotton mattress?
Pressed cotton mattress is a type of mattress that is simply shaved, consisting of only two parts: the inner core and the outer mattress. In particular, the mattress core is a mixture of cotton fiber (polyester) fibers which are insulated to form a firm porous mass, though not high but still achieve a certain elasticity in low price range. Outside, the mattress cover is usually made of fabric using cotton, brocade and TC, which can be removed. There are also a number of manufacturers who use a mattress cover made of brocade material to increase the smoothness and elegance of the bedroom. However, due to the low price, most of them will use cotton and TC to make clothes for mattresses.
In particular, some high quality cotton-padded products are pressed cotton core which is also combined with rubber layer to enhance smoothness, comfort, and for users.
In terms of design, pressed cotton mattresses has many forms. The most popular ones are pressed cotton mattresses – Tri-fold, suitable for use in small areas such as rooms, bedrooms with limited space,…
Advantages and disadvantages of pressed cotton mattresses
Advantages:
- Pressed cotton mattresses have lower elasticity than spring mattresses and rubber mattresses. Therefore, you will not feel unsteady when lying on a pressed cotton mattress, help your skeleton straight, don't cause back pain, suitable for people with back pain or sciatica.
- The cotton fibers in the core of the pressed cotton mattress are pressed insulated, thus achieving high durability.
- Pressed cotton mattress is very safe for users because the mattress core is Polyester fiber, so it doesn't cause allergy or skin irritation.
- The cotton mattress pressed is not secret, hot, so it's very suitable for the hot and humid climate of our country.
- Pressed cotton mattress is usually designed with 3-piece handy, so it can be folded neatly, helps to save space and is easy to move, so it is often called 3-fold cotton mattress.
- Pressed cotton mattress is cheaper than the rubber mattress and spring mattress, suitable for the majority of consumers.
Defect:
- With low-quality pressed cotton mattresses, the mattress will quickly become deformed, subsided and collapsed after a period of use. Therefore, users should choose reputable brand mattresses to ensure.
- Due to the low elasticity of the base with the majority of users, the pressed cotton mattress is quite hard. This can be good for people with back pain or sciatica but will not be comfortable, smooth like rubber mattresses and springs.
- The mattress is easy to smell when children poke on the mattress.
- Long life and low usage time, only 4.5 years.
- Easily collapsed when soaking in toilet water.
Outstanding features of pressed cotton mattresses Uu Viet
- The core of the mattress uses 100% high-quality cotton fiber (polyester) yarn, produced by modern Korean lines, ensuring optimum quality.
- Good ventilation, fast moisture, sterile materials shouldn't be haunted during use.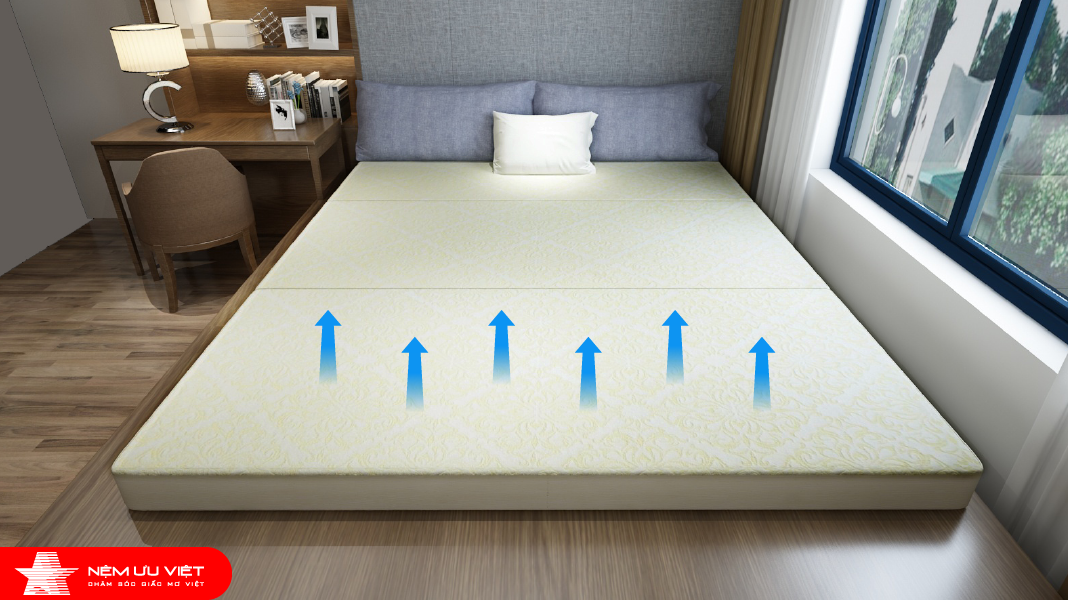 - The mattress surface is firm, free from subsidence, high flatness, good elasticity compared to the material limit and in the price range.
- The weight of pressed cotton mattress is high, so the features of the mattress achieve the best maximum level, long-term degradation, and help increase the product life.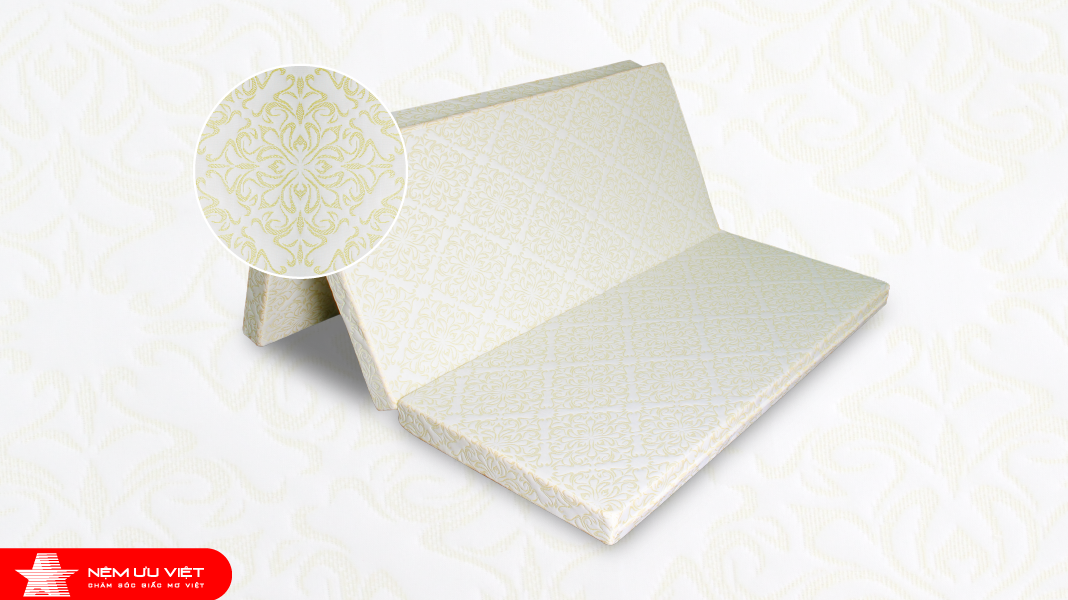 - The mattress core is made of high-quality cotton fiber, so it possesses fire-resistant, nano-antibacterial and insecticidal properties, extremely safe for users.
- Flexible 3-fold design, convenient for narrow and moving space. The mattress cover is sewn with convenient zipper, easy to clean and change.
- High quality knitting fabric (180gram / m²) with many outstanding features:
European imports.

Beautiful, elegant and luxurious motifs.

The surface is open, soft and porous.

4-dimensional elasticity, good elasticity, creating a pleasant feeling when lying down.

Keeps the heat well but still doesn't hinder the process of breathable between human body and surroundings.

Good permeability.

Less creasing, easy to maintain, good hygiene.
Always place a mattress on a flat surface (floor, bed ...).

To shrink the mattress, it can be folded and upright against the wall.

It can be folded into a handy sofa in the family (reduce the durability of the mattress).
Instructions for hygiene
- Mattress can be removed for cleaning (you should minimize the removal to protect the mattress better).
- In case of a dirty mattress, you should follow the steps:
Open the zipper and gently remove the mattress.

Close the mattress zipper before washing by hand or using the washing machine.
- If the intestinal mattress is contaminated with dirt, it should be handled according to the following steps:
Stand up the mattress.

Use a direct spray on the contaminated area.

Dry the sun on the mattress before using it again.
Storage instructions
Don't let the sun shine directly into the mattress.

There should be mattress covers to limit the removal of the cleaning mattress several times and avoid stains that may penetrate the mattress.

Don't expose the mattress surface to sharp objects, which can cause fire and explosion.
Note
Customers read the instructions for use and store the warranty card to be best served if there is a problem from the product.
If you are interested in pressed cotton mattresses - Tri-Fold and need advice for more details, you just need to contact with hotline 0965288188. Or you can go to the nearest showroom of Uu Viet Mattress to directly feel and experience the product.