WINTER MATTRESS - POCKET SPRING
Lò xo bảo hành 10 năm




10% discount
Original price: 4,365,000đ
Winter mattress - pocket spring has been launched since 2003. Since then, the product line of Winter Spring mattress has undergone many scientific and technical improvements to bring the optimal for users.
The product gathers the latest features and technologies in the world, is meticulously designed for each stitch stitch, and especially using high-class luxury fabric to create a perfect product. The pocket spring system creates a feature that cannot be more wonderful. Above all, the mattress height up to 25cm will bring a comfortable and luxurious feeling to your bedroom.
Composition of Winter mattress - pocket spring
A good spring mattress (provided that the carbon in the steel to produce springs must meet the standard, avoiding the spring from being broken, falling ...) will have a very long life time.
Uu Viet Mattresses Co., Ltd uses steel materials imported from Belgium with high carbon to produce springs, thus ensuring the most stringent requirements in terms of international standards.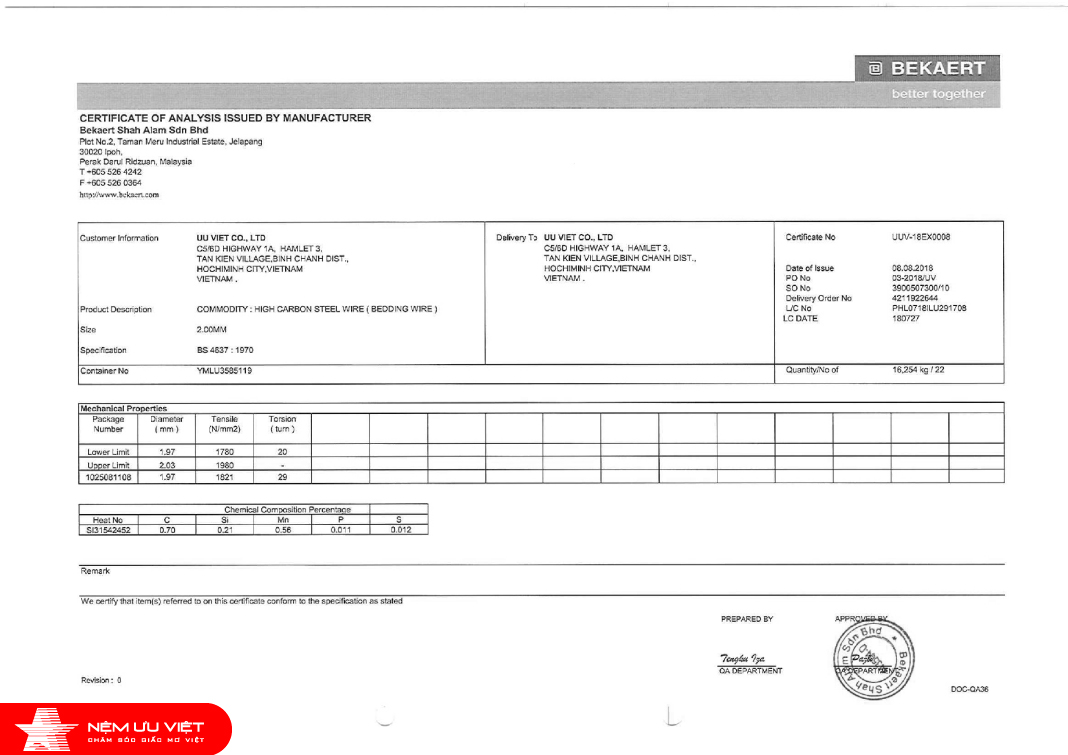 2 / Butterfly-shaped power spring supports corners and edges
Butterfly-shaped assist springs help lift the corner and edge of the mattress every time you sit up. Increasing the stiffness of the mattress helps you not to slide or roll down when lying close to the mattress.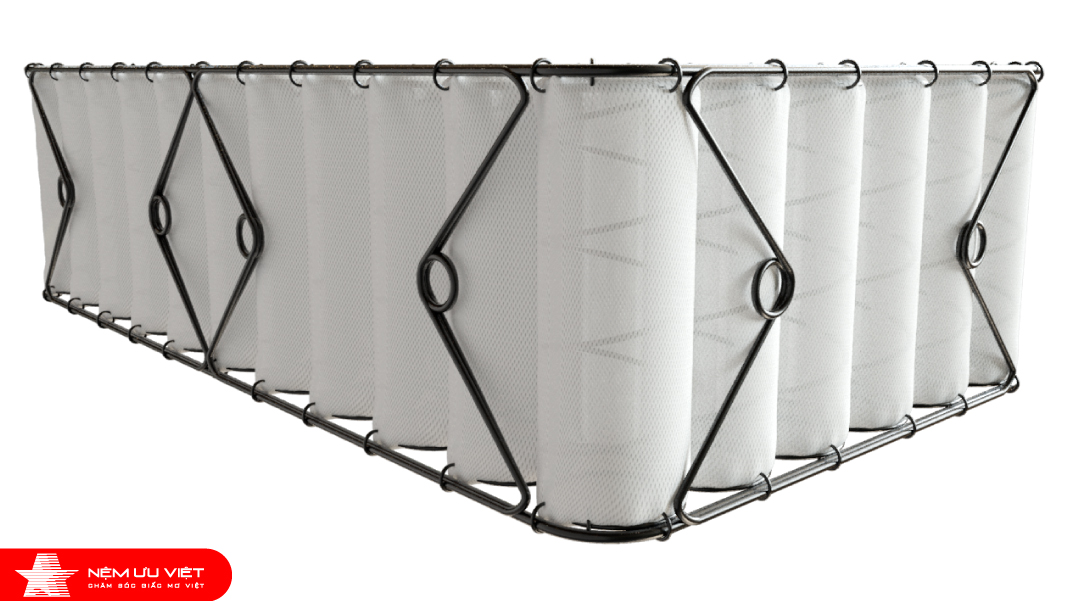 3 / High Density Foam comfort layers
The HD foam is designed with 3 layers of High Density Foam with different density to bring softness, smoothness and comfortness when sleeping.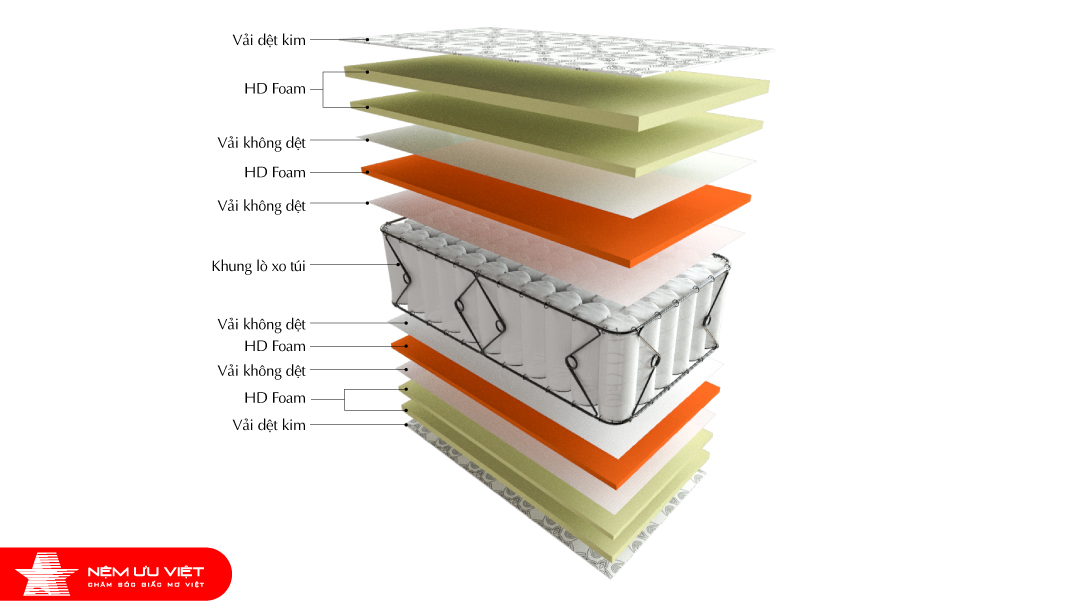 4 / Fabric material for mattress
Knitted fabric material with imported Polyester yarn made of Italian technology helps fabrics have four-dimensional elasticity and increase softness and smoothness for the mattress. Moreover, the fabric does not irritate the skin and does not contain Formaldehyde (carcinogenic agent), ensuring safety for users' health, transparency in origin.
The fabric of the sheet increases the comfort of obtaining conformity product certification in accordance with TQC regulations, ensuring that all garment and textile products meet the safety requirements of Vietnam as well as many countries in the world. about formaldehyde residues and aromatic amines.

Characteristic structure of pocket springs
Winter pocket spring mattress has reached the most basic standards for a pocket spring mattress with solid and sturdy pocket spring system. With the design of two smaller springs, bulging in the middle, and moving independently of each other, when lying on the mattress, each touch point on the mattress surface is subject to the elasticity of a separate spring bag. . Thus, the movements of the person lying down will not affect or affect the person lying next to him.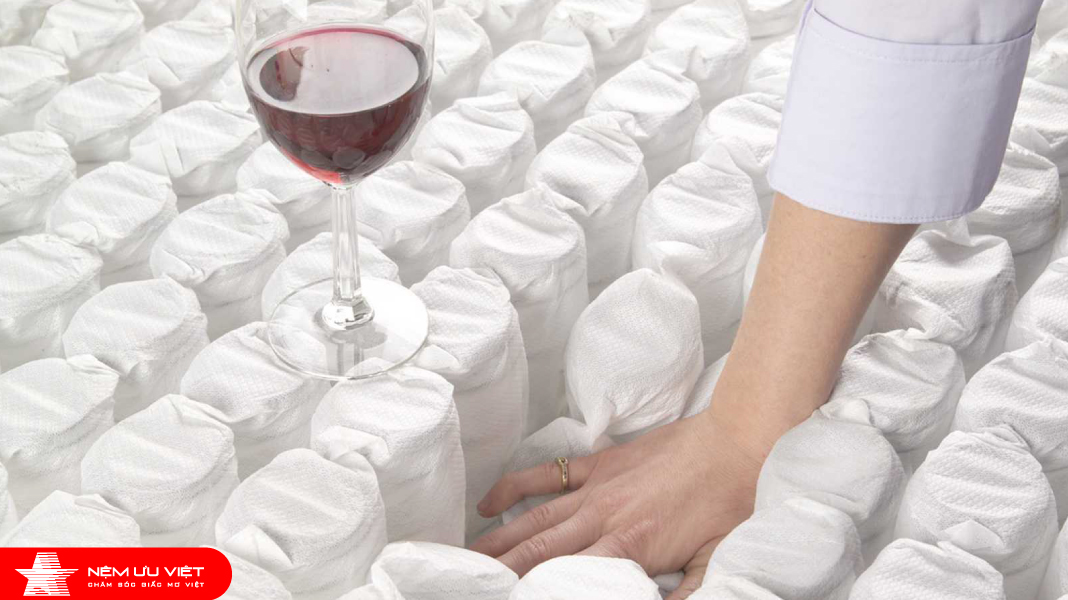 Test the weight of customers using Winter mattress - Pocket spring
Test the weight 47kg when lying on the Winter mattress - Pocket spring with firmness 6.1.

Test the weight 65kg when lying on the Winter mattress - Pocket spring with

firm

ness

6.1.

Test the weight 90kg when lying on the Winter mattress - Pocket spring with

firm

ness

6.1.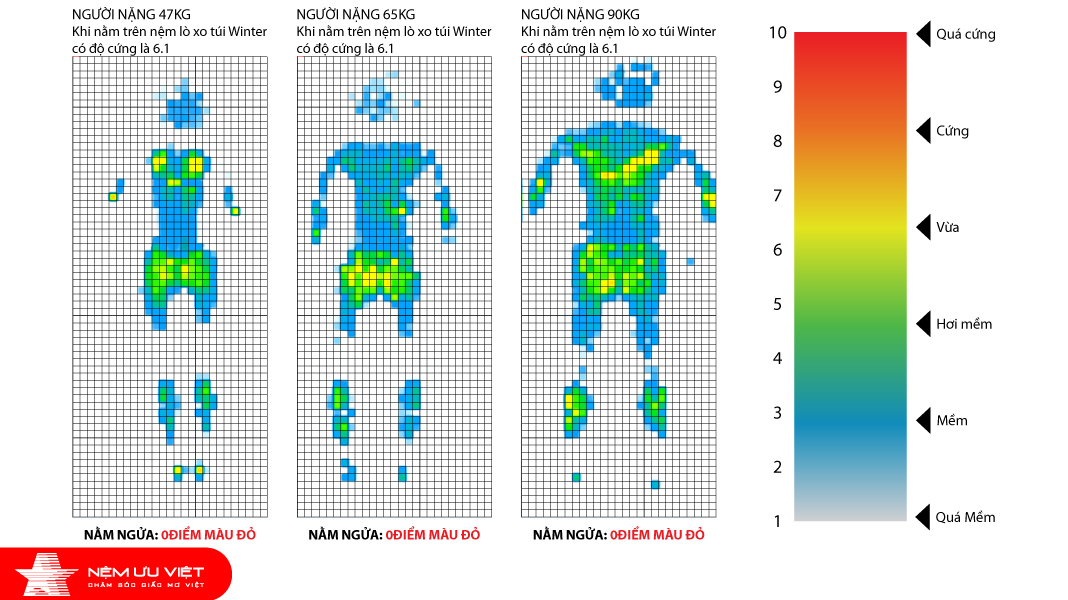 After testing the winter mattress for customers who weigh from 47kg, 65kg and 90kg for both men and women.
Winter mattress - pocket spring is suitable for many customers because of its high elasticity and spine-tightening feature when lying down. Help bring comfort and comfort to wake up.
Pros and cons of Winter mattress - Pocket spring
Spring frame: The inner spring frame system has a lot of gaps to make the mattress airy and cool.

Deodorizing: Spring mattress does not have a toxic odor because the construction material does not use synthetic materials. In fact, the pocket spring mattress has a breathable ventilation feature that helps to remove the odors during use.

Durability: 10-year warranty springs.
Each customer will have different feelings about the mattress because depending on preferences and weight.

Due to the construction of steel, the weight is relatively heavy, slightly inconvenient when transporting.
Test of durability of Winter mattress - pocket spring
The mattress is tested according to European standards (Test according to EN 1955-2000 standard). Here is how to do the test:
The mattress will be brought into the laboratory and placed on a European standard strength testing machine with a total number of rollings of 30,000 times, equivalent to 10-year durability. The test is done within 2-3 days.
Check times 1: 100 times

2nd test: + 200 times

3rd test: + 29,700 times
The total number of continuous checks is 30,000Mattresses are tested for durability according to European standards. A machine weighing 100kg will be raised and lowered to simulate our hips when lying on the mattress. 30,000 times of lifting up and down will be checked within 2-3 days. (Test according to EN 1955-2000 standard).
After the examination is completed, the Winter mattress - pocket spring remains in normal use and does not break or damage springs. During long-term use, Foam will soften as a normal problem.

Uu Viet Mattress, take care of Vietnamese dreams
For 26 years, Uu Viet has been constantly innovating with all the passion and responsibility for sleep and health of customers. Uu Viet ensures the supplier of the product is verified and safe for consumers' health. Providing Certification or the raw material such as: Fabric, Steel and Foam. Our products have received high trust from customers, partners, hotel and resort projects in domestic and international market.